Citrus limon (L.) O
Fruit of the lemon tree (Citrus × limon) from the genus Citrus (Citrus). It is a group of cultivars that resulted from a cross between bitter orange (Citrus × aurantium) and citron (Citrus medica),[3] probably in northern India. Around the year 1000, the first reliable evidence can be found both in China and in the Mediterranean area.
Plant family: Rutaceae, rue family, family with about 1600 species
Part(s) of plant: bark of lemon fruits (flavedo layer)
Extraction method: cold pressing
Main harvest time: May – September
Essence: particularly sensitive to light and heat, pale yellow to greenish, thin
1kg essential oil can be obtained from 1500-3000 lemons/ approx. 200kg lemons.
Main physical effects: antiviral, toning,
Main mental effects: concentration-enhancing, mood-enhancing, refreshing
Shelf life after opening the bottle: approx. 1 year (depending on storage and handling)
Lemon (and other citrus fruits) essential oil is found directly in the oil glands of the peel. It is obtained by cold pressing and subsequent centrifugation. The natural wax contained in the liquid is then often separated and removed by cooling
All citrus oils spread quickly in the air and are highly fluid. At best they should be kept cool, protected from light and with little/none atmospheric oxygen in the container. Then they still smell fresh months later. If they are stored very cool, some wax can again"fall out" and become visible. Of course, this does not mean a loss of quality – but shows that you are actually dealing with natural lemon oil. Incidentally, strong cooling does not seem to be as good for the durability of the oils as was previously thought.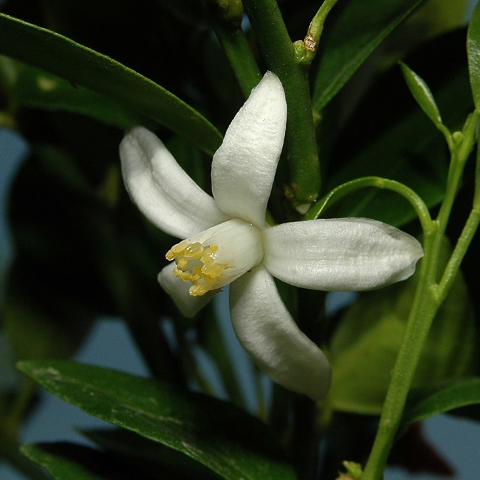 Lemon trees need lots of light and warmth. Shade doesn't suit them at all.
The fruits can be harvested all year round. All stages can always be found on the tree, from often beguilingly fragrant blossoms to ripe fruit. On average, around 200 kg of lemons can be harvested each year.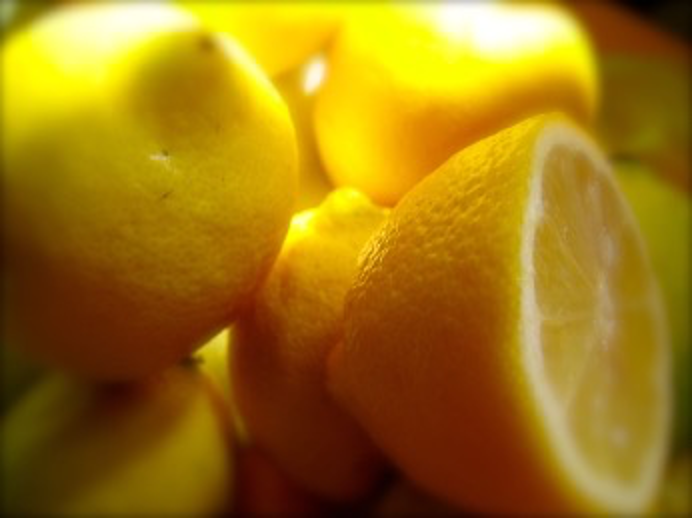 varieties
Depending on the country of origin and growing area, there are many different varieties of lemons. The main difference lies in the skin thickness and the amount of juice. As a rule of thumb, the thinner the peel, the more juice a lemon will have. It doesn't matter whether the skin is light and lemon yellow or a slightly darker yellow colour. Some varieties even have green peels or green spots on the yellow peel when they are fully ripe – in terms of taste, amount of juice and ingredients, they are still no different from other lemons. It is true that some varieties have significantly more seeds than others, but this says nothing about their quality.Depending on the quality (conventional, organic, demeter) and cultivation country you can find different smells and tastes.
In 2020, according to the United Nations Food and Agriculture Organization (FAO), 21,353,502 tons of lemons (including limes) were harvested worldwide. The ten largest producers together harvested 80.2% of the world harvest. The largest European producers were Spain (1.100.470t) and Italy (473,280 t).
The citrus "family tree"
Citrus fruits descend from a few original plants: lemons, grapefruit, and tangerines: from South and East Asia. Almost all citrus fruits have the rare genetic combination of being sexually compatible and highly prone to mutation. Such traits allow their genes to self-mix over thousands of years, and eventually deliberately through breeding.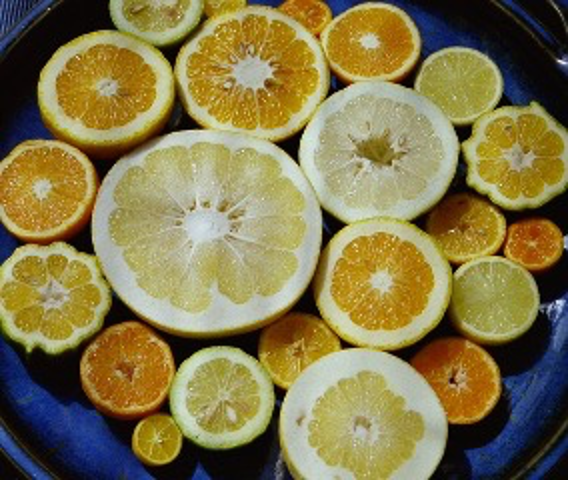 Citrus (Italian: agrumi, sour fruits) is a collective term for the fruits of citrus plants.Their essential oil is generally obtained by cold pressing, i.e. they contain more of the ingredients than with the usual steam distillation for essential oils.Exceptions: lime dest. tangerine dest. multiply distilled orange oils, which are more fragrant and softer.
-Lemons
-Oranges
-Mandarin (green, red:, yellow)
-Clementines
-Limes (cold pressend and one of the few exceptions: distilled)
-Kumquats
-Tangerines
-Grapefruit: conv. white and pink
-Citron
–Bitter Orange
-Yuzu
-Bergamot
– Blood Orange
– Pomelo
– Petit grain (made from unripe fruit and lemon leaves)